EMMY Consolation Prize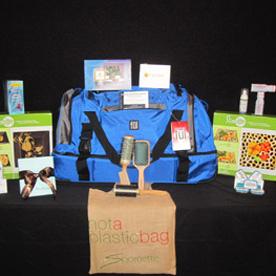 While it's always an honor just to be nominated, we know even the biggest stars will surely be disappointed if they go home from the 62nd Annual Primetime Emmy Awards empty handed! So a company called Distinctive Assets will once again soften that blow with award-worthy gifts for the non-winning nominees in the eight major acting categories (Outstanding Lead Actor/Actress in a Drama; Outstanding Lead Actor/Actress in a Comedy; Outstanding Supporting Actor/Actress in a Drama; and Outstanding Supporting Actor/Actress in a Comedy).
Article continues below advertisement
These consolation gifts will be delivered on August 30, 2010 (the day after the awards telecast of course.)
Here's some of the stuff that went to the losers :
Altoids SMALLS One-Year Supply: ($70.00)  Wm. Wrigley Jr. Company. No comment needed.
Emergen-C BLUE Alacer Corp: ($170.00) One Year supply. A non-caffeinated, naturally energizing* fizzy drink mix that when mixed into 4-6 oz. of water provides a tasty blend of blueberry, blackberry and raspberry flavors and real juice powders. www.emergencblue.com . We live on this.
Ful (pronounced (fuel) Load Runner Duffel: ($120.00) We took this out for a test drive and the inline skate system had us doing wheelies. We also liked the multi-compartment storability and the retractable trolly handle.
Pre-Fenz Botanicals, LLC: Pre-Fenz Botanicals: ($6.99) 24 Hour Hand Sanitizer that is the best protection against bacteria and germs.  It's green, non-toxic, alcohol free, smoothes and softens! www.prefenzbotanicals.com Ok, we tried it and it's great! Our hands feel soft and smell great and the company says it lasts "through 10 hand washings." We hope there's a jumbo size.
Article continues below advertisement
24SEVEN Nutrition, LLC: 24SEVEN Energy and Immunity Shot: ($47.88) "More than just an energy solution, the proprietary formulation of 24SEVEN's 100% juice includes twenty-four of today's top superfruits, botanicals, and vitamins.  Combined, this formulation is proven to rejuvenate our physical and mental vitality, mobilize your immune defenses, and supercharge your health. www.24sevenenergy.com ." Ok, we'll give it a shot (pun intended.)
Chocolatines by Sweet Endeavours: ($50.00) 4pc White Gold Diamond – Champagne ganache is encased in 72% dark chocolate and then hand painted in white gold. A sugar diamond is set as a finishing touch. OMG, these are almost to beautiful to eat! Perfect for gifting.
Slimware:  Stylish Portion Control Plates: ($36.50) Portion consciousness … disguised in the design. www.slimware.com
Spornette International: Zhu Bamboo Brushes: ($47.00) 3 Professional Styling Brushes made from Natural Bamboo and a bag made from Jute, a recycled product.  www.spornette.com
Article continues below advertisement
Lisa Ashley Beauty: The Ultimate Eyecream and The Ultimate Moisturizer: ($105.00) "The Ultimate Eyecream is multi-functioning and delivers immediate and ultimate results while The Ultimate Moisturizer boasts a silicone moisture mist that hydrates, revitalizes, nourishes, and diminishes lines and pores. "  www.lisaashleybeauty.com
The Sports Club/LA: The finest fitness facility in the world: ($3,300.00) Complimentary one year memberships. www.thesportsclubla.com
Everyone feel better now? We know we do.