Calling All Musicians :iShred Live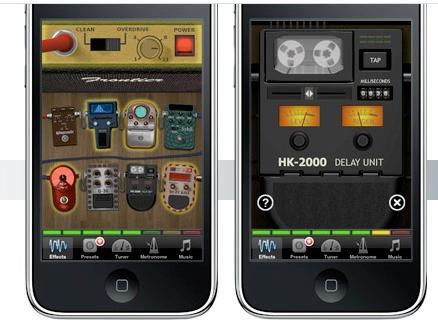 Griffin Technology has created a cable that's going to make my life a whole lot easier, and louder. Now when I'm on the road, or even at home, I can grab my guitar, my iphone and Griffin's new GuitarConnect cable and plug in my headphones and rock out anywhere I want.
The GuitarConnect cable makes let's you use your iphone headphone port to connect your headphones and guitar and start jamming away– turning your iphone into a mobile guitar rig and practice amp. Using iphone guitar effects applications like iShred Live, I have a whole effects board without needing a 300 lb. roadie to lug it all around for me. It's all right there in my iphone. iShred LIVE includes a built in chromatic tuner, metronome, 48 preset slots to store sounds, a music/loop player, amp simulator and tons of effects, so now, anywhere I find myself on the road, whether it's the tour van, backstage, or in the hotel room, I can tune out all the noise and just plug in and play. Who knows if when inspiration strikes I'm going to have an amp and the right cables handy? The GuitarConnect cable lets me reduce the number of equipment I need to take with me which always a plus. I always have my iphone with me. Now with the new Griffin GuitarConnect cable I only need to have my guitar and earphones handy to start playing, writing and recording anywhere I want.
Article continues below advertisement