TV: Wednesday Hot List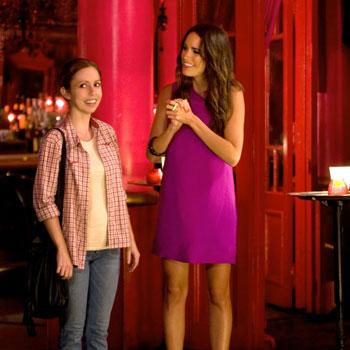 We're excited for the new makeover/reality show Plain Jane premiering on the CW tonight. Fashion expert Louise Roe transforms so-called "Plain Janes" so they can gain the confidence to surprise their crush and reveal their true feelings. Louise's first "Jane" needs to shed her "one of the guys" persona so her crush will see her as more than just a friend.
Did you check out Confessions: Animal Hoarding on Animal Planet last week? If not, then you must watch tonight when a fed-up man stops supporting his estranged wife's 87 dogs (no, that is not a typo – 87 friggin dogs) while another couple's relationship is tested by one of the partner's obsession with rescuing animals!
Article continues below advertisement
8pm
So You Think You Can Dance (FOX)
Minute to Win-It (NBC)
Big Brother 12 (CBS)
Plain Jane (CW)
9pm
America's Got Talent (NBC)
Confessions: Animal Hoarding (Animal)
Top Chef: Washington D.C. (Bravo)
Ghosthunters International (SyFy)
Man vs Food (Travel)
10pm
Work of Art: The Next Great Artist (Bravo)
Billy the Exterminator (A&E)
24 Hour Restaurant Battle (Food)
The Bachelor: Then and Now (E!)
Real World (MTV)
Toddlers and Tiaras (TLC)
Hot in Cleveland (TV Land)
Psych (USA)