TV: Tuesday Hot List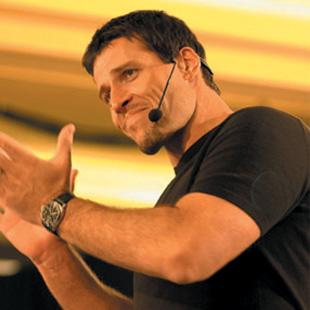 Tony Robbins, life coach of epic proportions, steps into your living room tonight to inspire positive change on his new NBC show Breakthrough with Tony Robbins. In the premiere episode, Tony works with a newlywed couple that recently went through a devastating accident that left the husband in a wheelchair and the wife his full time caregiver. If anyone can make them see the light at the end of the tunnel—it's Tony!
Article continues below advertisement
Fox launches their latest culinary competition called Masterchef. It features talented home cooks on a journey to turn their passion into a $250,000 prize and cookbook deal. Judging the wannabe chefs are Hell's Kitchen meanie Gordon Ramsey, Graham Elliot Bowles and restaurateur Joe Bastianich.
8pm
Breakthrough with Tony Robbins (NBC)
Hell's Kitchen (FOX)
Pretty Little Liars (ABC Family)
9pm
Master Chef (NBC)
America's Got Talent (NBC)
Make It or Break It (ABC Family)
Gene Simmon's Family Jewels (A&E)
Hawthorne (TNT)
White Collar (USA)
Cupcake Wars (Food)
Deadliest Catch (Discovery)
10pm
Primetime: Family Secrets (ABC)
Kathy Griffin: My Life on the D-List (Bravo)
Deadliest Catch: Captain Phil Tribute (Discovery)
Teen Mom (MTV)
Growing Up Twisted (A&E)
Chopped (Food)
Little Couple (TLC)
Women Behind Bars (WE)
Memphis Beat (TNT)
Rescue Me (FX)
Covert Affairs (USA)
10:30pm
Growing Up Twisted (A&E)
11pm
If You Really Knew Me (MTV)