TV: SATURDAY HOT LIST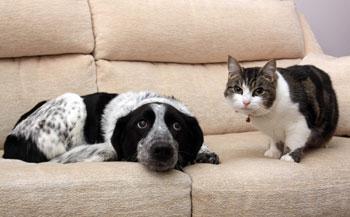 If you love dogs and your significant other is into cats—the debate is on like never before on Animal Planet's Dogs vs Cats. Grab your furry pet of choice and find out which domestic animal reigns supreme!
On Bio's My Ghost Story, some spooky and paranormal experiences are revealed. One couple has their home haunted by ghosts from a slaughterhouse while a cigarette smoking ghost haunts a health club (interesting choice)!
Article continues below advertisement
8pm
The Bridge (CBS)
Cops (Fox)
Persons Unknown (NBC)
Dogs vs Cats (Animal)
How Do I Look? (Style)
9pm
America's Most Wanted (Fox)
Whose Wedding Is It Anyway? (Style)
10pm
Pit Boss (Animal)
My Ghost Story (Bio)
Unwrapped (Food)
The Dish (Style)
Dr. G: America's Most Shocking Cases (TLC)