A New York Hotel With A Sexy Connection: The Hotel Giraffe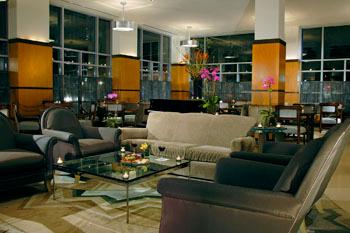 The Hotel Giraffe's name may conjure images of safaris and wild, expansive plains but in reality, this New York boutique hotel is a sophisticated respite from the urban jungle of Manhattan.
Located on a quiet corner near Union Square and the Flatiron District, the hotel is a modern ode to European charm. The lobby is instantly welcoming from the elegant chessboards dotting tables, to the grand piano in the center of the room, to the well-equipped coffee bar where guests can help themselves to delicious biscotti, cookies, and cappuccino. There is a daily complimentary breakfast buffet and an evening champagne, wine, and cheese cocktail service (with live piano music) as well.
Article continues below advertisement
Las Vegas For Grown-Ups: Spa, Shows and World-Class Supper
The service is also charming: the bellman not only brought the bags into the room, but also gave a short tour of the guestroom and its facilities including opening up the Juliet balcony to let some fresh air in. While the décor is decidedly modern, the lavish, rich and bold colors like jewel red and gold warm the space make it a understatedly hip destination.
(Fun fact: The Penthouse Piano Suite was transformed into Mr. Big's swanky New York apartment featured in the first Sex & The City movie. The space, which boasts vaulted ceilings, huge balconies and stone open fires, is usually reserved for events like parties and receptions.)
Sheraton Universal Hotel: The Good…and The Bad
While the Hotel Giraffe has some amazing deals (they run amazing holiday rates from $255/night rooms over Labor Day Weekend to rooms right under $300 over Thanksgiving and Christmas), a night in a Deluxe Guestroom with a King Bed may be worth the extra bucks thanks to the balcony- at least in the summer and spring time! Fresh air above the city is a rarity and makes you truly feel like you have an escape that feels like more than your standard hotel room.
Don't have the extra cash? Not to worry. The Hotel Giraffe has a lovely rooftop garden where you can keep up your heels and relax amidst the topiary on one of the lovely cushioned benches. Another nice aspect of the hotel is the complimentary internet service- an increasing number of hotels now charge for access so it is a pleasure to find one that includes it with the room charge!
Overall, the Hotel Giraffe was a welcomed surprise that blends modern comforts with the luxurious feel of a bygone era.