iPology: The Sorriest App On The Net (In A Good Way!)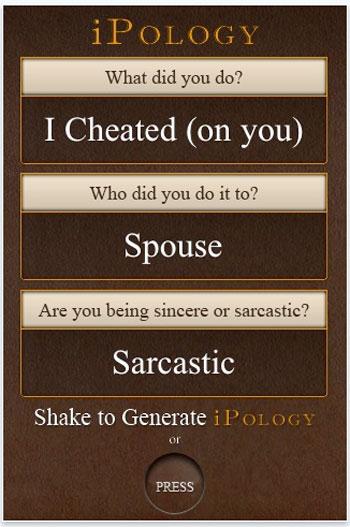 High Heels Productions has launched the iPology app, the first ever app of its kind designed to generate apologies based upon what the person did and to whom it was done.
Using the latest technologies, iPology eliminates the awkwardness of the formal apology process by providing both sincere and sarcastic "iPologies" for whatever situation the person has gotten themselves into, thereby making instant amends. iPologies are delivered via one of three distribution methods: by a professionally recorded MP3 (if the individual happens to be near the offended party), text message or e-mail.
Article continues below advertisement
iPology is useful for everyday life: Maybe you're late, maybe you forgot your husband's birthday, maybe you were a little drunk at the party -- no problem. iPology will generate a sincere ("I'll never do that again") or sarcastic ("We all know I can't be trusted") iPology that will easily and accurately reflect your feelings, putting the incident behind you -- simple!
"We have created an outlet for both individuals and newsmakers to offer apologies for their mishaps," creator Allison Nathe said. "And we would like to officially offer this unique platform to public newsmakers including BP Chairman Tony Hayward, Bernie Madoff, Tiger Woods and Jesse James to free themselves from their scandals in a light, meaningful way."