INTERVIEW: Jon Gosselin's New Girlfriend Ellen Ross Breaks Her Silence: "He's A Regular Guy To Me"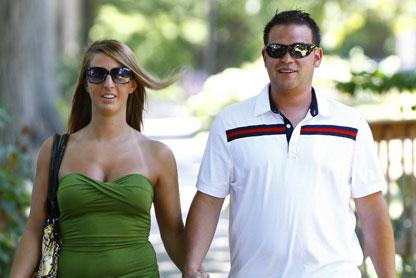 Jon Gosselin isn't your average boyfriend, but to girlfriend Ellen Ross he's just a regular guy. For the first time, Ellen breaks her silence and describes her relationship with the reality TV dad.
Jon and Ellen met on a blind date at a backyard barbecue RadarOnline.com has learned, and Ellen says they're "a regular couple" and "have a lot in common."
Despite rumors that Jon's new tattoo was Ellen's idea, she set the record straight saying, "Those were some words taken out of context. The tattoo artist is my friend and has done work on me. I suggested when Jon wanted to get a tattoo that he go to my friend. That's how that came up.
Article continues below advertisement
"I'm completely happy with him, and I have no complaints and we always have a great time," Ellen, 23, told Pop On The Pop of her romance with Jon. "Everyone close to me has met Jon and everyone's supportive and totally understanding about everything."
Shockingly, Ellen says she wasn't a huge fan of Jon & Kate Plus 8 and rarely watched the show. "I would watch it occasionally if it was on. I wasn't into it at the time. I was always out."
As RadarOnline.com previously reported, Jon got chummy in Los Angeles with reality show producer Canaan Rubin, but Ellen says a reality show is absolutely out of the question for her. "I would NEVER do a reality show," she says. "That is not the direction that I'd ever want my life to go into."