Famed Star Trek Threads To Be Auctioned Off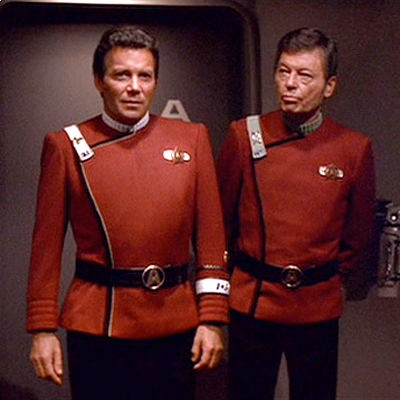 Both a Starfleet officer's jacket, and an undershirt, worn by William Shatner as Admiral James T. Kirk in The Wrath of Khan will be auctioned off July 17 at Heritage Auction Galleries Beverly Hills as part of a Star Trek-related auction.
The jacket is estimated to sell in the $20,000 range.
"Of all the Star Trek movies, The Wrath of Khan is easily still the most popular," Heritage's Doug Norwine told RadarOnline.com in a statement. "And here you have the very officer's jacket that the franchise's most popular character wore in that same film. There can't be many better pieces in the realm of Star Trek collecting than this one.
Article continues below advertisement
"This costume, so different from the previous design features in the series, was an attempt to change the look and feel of the franchise to match a more nautical atmosphere," Norwine said. "The resulting navel designs would be used in all Star Trek films until Star Trek: First Contact in 1996.'"
For more information about Heritage Auctions, along with full-color, enlargeable photos of each lot, please visit HA.com.