Exclusive
EXCLUSIVE: Jake "Wouldn't Touch Vienna" Says Her Stepmom; Used Her To Become Famous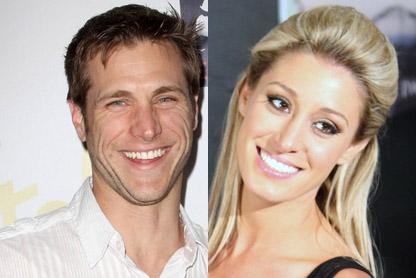 Vienna Girardi has revealed the shocking news that while she and Jake were together, he refused to have sex with her for the final six months of their relationship, and now her stepmother Lisa Girardi tells RadarOnline.com that Vienna confided in her at the time that Jake wouldn't even cuddle with her.
EXCLUSIVE PHOTOS: See Vienna In Bikini Thong Contest
Jake and Vienna were on vacation together in Hawaii and he Tweeted "I must say it's easy to be romantic in Kauai," but that was all for publicity, because Vienna told her stepmom that he wasn't being romantic at all!
Article continues below advertisement
"She called me from Hawaii saying that Jake wasn't being romantic, even though he said he was," Lisa told RadarOnline.com in an exclusive interview. "She complained that he wouldn't touch her, she told me when she tried to kiss him he would walk away, and sometimes wipe his mouth after their kisses.
"When they went to bed he wouldn't even cuddle with her."
Vienna did have good days with Jake, her stepmom said. "It would give her a little hope, but he would always go back to his old ways. He doesn't like for a woman to be in control."
Lisa described Jake as "cold. He was the first man I ever allowed to stay in the house with one of my daughters when they came to visit. I don't think we knew him any better after he left. He didn't ask us a single thing about ourselves. He didn't talk about anything with us."
Lisa defended Vienna's party girl reputation. "She likes to have fun, she's not a bad person, she just loves to have a good time. She looks great in a bikini and loves to make people laugh so she's always trying to entertain people."
Article continues below advertisement
As for the rumors that Jake might be gay? "I have no idea because I don't even know him. He wasn't romantic, loving or intimate with my daughter. I know he didn't love Vienna.
EXCLUSIVE PHOTOS: See Vienna In Bikini Thong Contest
"Jake picked Vienna for the ratings and he was always planning on dumping her. He knew he wasn't going to stay with her and love her, so he picked her knowing their breakup would continue to keep him famous."
RadarOnline.com exclusively reported that Jake was furious with Vienna at their taped meeting which will air in an upcoming The Bachelorette episode.
EXCLUSIVE: Jake "Is Lying Through His Teeth" Says Vienna's Stepmom
Lisa said Vienna, who is under contract with ABC until October, wouldn't talk about what transpired but was "extremely upset at Jake. She wouldn't have been that upset if it hadn't been violent."
Their meeting will air on ABC on Monday, July 5 during The Bachelorette.