Exclusive
EXCLUSIVE: Jake: Vienna's Tears Were Fake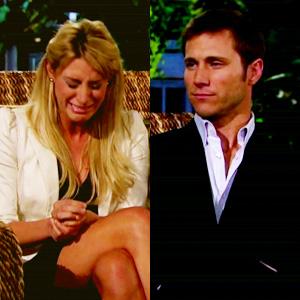 Vienna Girardi used "tear-inducing eye drops" before confronting ex-fiancé Jake Pavelka in their explosive post-split interview on television, according to the pilot's camp.
In a tense and dramatic face-off, Jake and Vienna met before host Chris Harrison, for the first time since they announced their bitter split.
But the recorded interview, that aired Monday night on ABC, ended in farce when Girardi stormed off the set in tears after Pavelka lost his cool and told his ex to quit interrupting him.
Article continues below advertisement
"When Vienna ran into the green room, she knocked over her purse and amongst the things that fell out were Vicks Vapor Rub and eye drops, which I could only think were of the tear-inducing kind," said one on-set source who followed her backstage.
Vicks Vapor Rub is known in acting circles to be a cry-on-cue formula.
Said a friend of the 32-year-old broken-hearted Bachelor: "These were definitely crocodile tears."
The stunning fake tears accusation was the second blow for Girardi, who was seemingly caught out Tuesday after he denial that she and Greek actor Gregory Michael were intimate, while she was still with Pavelka.
EXCLUSIVE: Vienna: I'm Still Afraid Of Jake
In the explosive square-off, Pavelka accused Girardi of cheating with Michael.
But she insisted, "There was nothing."
"That's a lie," Michael reportedly told Us Weekly.
"We definitely made out that weekend and Vienna made it very clear that it was over between her and Jake.
"I never said she cheated," Michael insisted.
"(But) I said we hooked up and she said they were broken up. I would never do that if she was in a relationship."