Exclusive
EXCLUSIVE: Bachelor Party Reunion Ends in Bar Brawl and Car Crash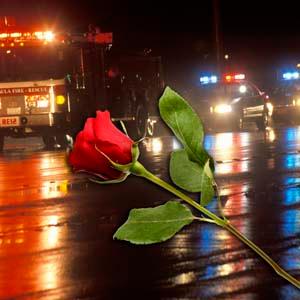 Bachelorette contestants gathered Saturday for the long awaited "Men Tell All" episode and a wild Bachelor reunion party in Hollywood, California. But RadarOnline.com has exclusively learned that what began as a fun-filled evening ended with a bar brawl and a serious car accident.
Blonde beauty Cristina Costa - a former contestant from 2002, was driving with three other former Bachelor contestants while leaving the reunion party at club H-wood but missed a turn.
Article continues below advertisement
HOT PHOTOS: Rozlyn Papa's Sexy Photo Shoot
"They left the party at about 2:30 a.m. and Cristina went to pull a U-turn and drove her car up onto the sidewalk and into a lamp post," a source told RadarOnline.com.
"The crash was so loud, the lamp post fell over and all the airbags deployed. People were trapped inside.
"There were several people on the sidewalk behind the lamp post, and she could have killed them if the post wasn't in the way!" said a witness at the scene.
"An ambulance was called, and it took Cristina to the hospital with a broken nose and wrist. She's still in the hospital."
This wasn't the only trouble the reality TV stars faced that evening.
Tyler Vermette from this season's The Bachelor, left the same party early in the morning, and was accosted by a man outside H-Wood.
"Tyler tried to tell the guy to leave him alone, but the guy wouldn't back off so he tackled him.
"The next thing you know the producers came running out of the club to break it up" said an onlooker.
"The producer's told the club goer "if you're smart you'll get out of here."
"Some guy came out of the club next door and just started poking Tyler in the chest, he hadn't done anything," said our source.
He went on to say, "It was a self defense thing for Tyler, the guy was going to hit him so he was protecting himself."