Euro Glam Headset: For Your Cell Phone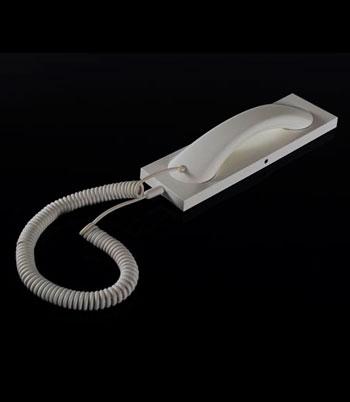 When the Moshi Moshi 02 headset arrived in our offices, we were immediately bowled over by the sleek design and then equally impressed with the functionality.
Designed by the French designer David Turpin, the MM02 is a contemporary handset – as compared to some of the retro ones on the market – and comes in a finished handsome black soft-touch or white high-gloss texture.
Why use a headset? Sometimes it beats talking into a tiny cell phone and this way you can more easily type and talk. There are also some health concerns that cell phone radiation may be linked to various forms of cancer, including tumors of the ear and brain, and the MoshiMoshi handset has been proven to reduce cellphone radiation more than 96% of cellphone radiations.
Article continues below advertisement
The Moshi Moshi (we just can't say that enough) has been manufactured with a high quality speaker and microphone and can be used with all mobile phones when fitted with the correct adaptor (sold separately) and when fitted with a USB adaptor (sold separately) can be used for VOIP computer telephone calls (Skype, Google Talk...). If you've got an iPhone it is fitted with a 3.5mm jack so you won't need an adaptor.
The button on the headset makes it easy to switch between calls and music and we were impressed with the audio quality. $59.99 at Native Union.