DVD Review: The White Ribbon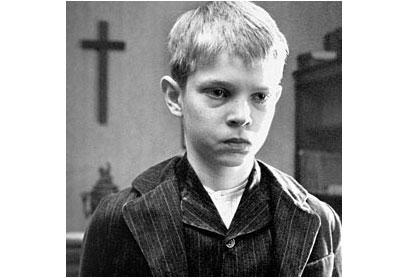 Last winter, The White Ribbon was the somber darling of the awards circuit. The German-made movie arrived to non-stop endorsements that included two Oscar nominations, three wins at Cannes and a Golden Globe among countless other statues and accolades. So what was all the fuss about?
With stark aesthetics and a gripping story, the film focuses on a string of mysterious and brutal accidents in a village just before World War I. First, the town doctor nearly dies after his horse trips on a wire. Soon after, a farmer's wife croaks in the mill, and the little son of the local Donald Trump has a violent run-in. Dark secrets, meanwhile, are lurking in every crevice of this fun-free zone, from the humiliation of the pastor's kids behind a thin veil of piety, to horrific abuse at the doctor's house (nevermind that he saves a baby's life). In this village, group dancing in circles is the most exciting activity of the entire year and pretty soon, it's understandable why.
Article continues below advertisement
Set against this depressing reality, the big question for us is who's wreaking all the havoc? The bigger question for writer/director Michael Haneke, however, is what circumstances lead to oppressive power (read: World War II)? The White Ribbon suggests that childhoods wrecked with rules, repression and general joylessness are a good start, especially when reinforced by self-loathing, sourpuss adults.
While the DVD edition doesn't include special features (it would have been nice, for example, to hear Haneke's explanation about the thought-provoking ending), it doesn't really need any. The director's point about fascism's roots is startlingly clear, all the more chilling because we know what happens: Just as these oppressed, tow-headed kids are hitting adulthood, the second world war will break out and oppress the next generation. The causes and mechanics of the war have been debated for decades -- but The White Ribbon makes the pre-conditions undeniably clear.