DC Cupcakes: Meet Sisters Sophie LaMontagne and Katherine Kallinisk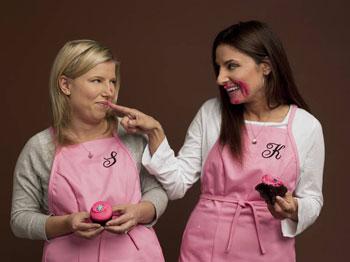 Sisters Sophie LaMontagne and Katherine Kallinis gave up their life savings and solid careers to take the biggest leap of their lives and make their dream of opening a bakery together come true. Little did they know that their shop, Georgetown Cupcakes, would become an even more popular Washington DC attraction than the monuments! Lines wrap around the block (and then some) with customers waiting to get their fix of cupcakes with mouth-watering flavors like salted caramel and red velvet. So, TLC premieres the six-part docu-series DC Cupcakes tonight at 10pm ET to go behind the scenes of the popular shop to find out what it's really like to work with family (their mom is in on the action too). But for even more inside scoop on the show, the shop and their celebrity clientele, read on for RadarOnline.com's catch up with Sophie and Katherine!
Article continues below advertisement
Red Velvet Cupcakes! Sneak Peek!
RadarOnline.com: What will we see on the show?
Sophie: The camera isn't really at home with us so we're not worried about our personal lives, but I think it's fun to share kind of our live in the bakery, because it's so crazy so we're excited about that. There are a lot of women who actually email us and call us and send us letters and they're always saying, 'I've always dreamed of opening a bakery with my sister. Or I've always wanted to open a business with my sister.' So I feel like this is really going to be a really good glimpse into what it's really like working with your family every day and working in a bakery. It's not always pretty.
RadarOnline.com: You both gave up your careers to open Georgetown Cupcakes – what was that like?
Katherine: Very scary. It's especially scary when you're leaving a job that you actually like. If you're not happy with your job I think that's easier, but if you're happy with what you're doing I think it's harder to make that decision to leave for something that may never work out. So for us, it was really, really scary and we also put in all of our life savings to start this and that was also a decisions we had to make together. We decided that if we're okay with using all of our life savings and starting over again from scratch if we failed, then we were ready to do this and take the leap.
Article continues below advertisement
Review : It's A Small World After All : All Children Cookbooks
Sophie: Our families thought we were completely insane too, because our families are from Greece and so like people go to college to get a job to get out of the bakery. And here we are like giving up our jobs to go work in a bakery. This is something Katherine and I talked about our whole lives - opening a bakery together.
RadarOnline.com: When did you realize that this little cupcake shop had lines wrapped around the block?
Katherine: We opened on Valentine's day and there was a line down the street. We had no advertising, we had no money, all we had is this little Kinko's poster we put in the window like the day before we opened. But for some reason, I guess people were passing by – and we worked off a very small street in Georgetown at the time, and I guess they were calling people and telling them, 'Oh, I just passed this bakery having an opening.' So we thought, 'Okay, if our grand opening is on Valentine's Day, maybe that's the only reason we have a line.' But the next day the line came back, and the day after that there was a line. I think we soon realized we were in trouble because we could not keep up with the demands. We were realizing that this line is never going to go away.
Article continues below advertisement
Sophie: The first couple months were definitely scary!
RadarOnline.com: What is it like for each of you to work so closely with your sister?
Katherine: Sophie and I fight over everything, but you know, we're a year and a half apart, so we've been fighting since we were little girls so we're used to it. Every time we have a fight, ten minutes later we're having lunch together. We never really take it personally. I really think that kind of helps us grow our business because we're able to make really good decisions without really having to sugar coat it or filter it. Because if you were speaking to a friend or colleague at work, you can't really talk as candidly to them as you would your sister, so a lot of stuff that Sophie says to me drives me just up the wall but I'm not going to walk out because we're family.
TV Show Review: Getting "Hot " In Cleveland
Sophie: I think our staff mostly gets scared when we start fighting with each other. The first thing we do when new people join, because they may not get our dynamic yet, is warn them that we talk very frankly to each other!
RadarOnline.com: Your mom works with you too - what kind of advice does she give you?
Sophie: 'Why aren't you married?'
Katherine: Or have a baby? That's what we hear all day from her. (laughing)
Article continues below advertisement
Sophie: I'm married and Catherine is not married yet and neither of us have children, but out mother has a one track mind and all she wants is for us to get married and have children. And she has like all these opinions of how the bakery should run and I think like the show definitely shows that as well.
Review: Cat Cora's "Classics With A Twist"
RadarOnline.com: Growing up, how were cupcakes and baking a part of your life?
Katherine: So our family is Greek and our grandmother basically baked everything from scratch although our mom is not a baker. My grandparents raised us while our parents worked. We spent so much time with our grandmother in her kitchen when we were little and we just followed her around and imitated her. She baked cakes and we would get the left over batter and put them in little pans. That was our first cupcakes, but all of the recipes are really based off of just a couple of her cake recipes. We've kind of derived everything from there.
Article continues below advertisement
RadarOnline.com: Why do you think that cupcakes have become the new "it" dessert?
Sophie: We've been baking cupcakes since we were little girls, so I think people are just more aware of them now. I think people like them because they're individual. You can buy a ton of different flavors for parties and really cater to everybody's tastes and they're really fun to decorate. You can make them look whimsical or give them different looks and have different flavors rather than just having one cake. We think it's something a little different and I think our customers really love the individuality that they get when they come in. It's like just a single portion just for them versus eating a whole cake.
RadarOnline.com: What are some of your most favorite flavors and the most popular ones you've come up with?
Katherine: Our most popular at the bakery by far is red velvet. I think our customers love that because you don't really make red velvet cake at home.
Exclusive Video Blog : Chef Kerry Simon Shares One Of His Favorite Salad Recipes
Sophie: And, the one called salted caramel is really good. There's a peanut butter fudge that's delicious. We do a key lime, we have a coconut key lime, lemon, maple, and we have a pumpkin with maple cream cheese frosting too. We really try to get creative, especially around the holidays. Our best time is December when we have gingerbread with cinnamon and cream cheese frosting, chocolate eggnog - it can get pretty fun with the flavors.
Article continues below advertisement
RadarOnline.com: How many cupcakes do you think you make a day?
Katherine: We sell over 5,000 a day now! It adds up quickly because when you have weddings and events – any given Saturday we'll do between five and seven weddings or special events, and like you know, it's 300 cupcakes for one, 400 here or 500 for another - it adds up really quickly.
RadarOnline.com: Have the Obama's tried your cupcakes yet?
Sophie: They haven't been in the store.
Katherine: There has been an order from the White House, but we don't know if he's had them. Hopefully they have. We would die if they came in!
RadarOnline.com: You've had a lot of celebrities come into the store – who was the most exciting?
Sophie: I think Russell Crowe was the first celebrity to come in and for the rest of the day all the girls in the shop could not work. They were just exasperated after meeting him.
Article continues below advertisement
Katherine: It was like, 'Okay guys, get it together and start working again' but they were all awe inspired.
Sophie: We've had Owen Wilson and Kelly Rutherford from Gossip Girl came in for her daughter's birthday.
RadarOnline.com: How do you guys stay fit working around cupcakes all day?
Sophie: We're not that fit. We wear a lot of black and a lot of baby doll clothes. We're always up early. I think that does move your metabolism. We're always like lugging things around. It's amazing the kind of workout you get working at a bakery, just lifting 50 pounds of sugar or even frosting. We like to convince ourselves of that but, we do eat a lot of cupcakes. We have to try then for quality control, right?
RadarOnline.com: What's your advice out there for people that want to start their own business?
Sophie: A lot of women ask us that and we always tell them, 'If something is your dream, you should just go for it because you don't want to always wonder what if.' But we always also say, 'Be prepared to work because it is a ton of work.' It shocks our systems with the amount of work that goes into just running a very small cupcake shop. There is so much work. We're working all the time and it's hard. There are long nights, early mornings.
Katherine: You don't have to be miserable. If you have something that makes you happy, go for it. We started really small and slowly you make it work. Hopefully the show will give people an inside on the ins and outs of day to day life in the bakery – hopefully it inspires other people to open up shops too!