Cat Cora's Classics with a Twist: Fresh Takes on Favorite Dishes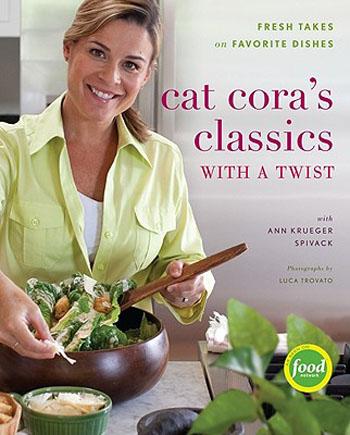 Cat Cora is perhaps best known as the first female chef on "Iron Chef" but has also established herself as an accomplished cooking host, a cookbook author and as Executive Chef for Bon Appétit magazine.
We're not a chef – or even much of a cook – but we love cookbooks so we took it home this weekend to try a recipe. Cat takes classics and gives it a twist, meaning faster to make, lighter and adding fresher ingredients to transform the humdrum into the sometimes spectacular.
Article continues below advertisement
All of them looked scrumptious but we went for the seemingly easy "American Tomato Soup with Grilled Cheese Croutons. "
In this case, what makes the dish so yummy is the spices (she adds onion, garlic and jalpaneo ) and uses tomato stock , and makes grilled cheese croutons which are cheese sandwiches cut into quarters and then quarters again.
Curious what she makes for her family (which includes four boys under the age of six) at the end of a busy day?
She names these six as her go to recipes:
Greek-Style Nachos,
• Grilled Chili-Lime Flank Steak Soft Tacos,
• Crispy Baked Fish Stix with Mustard Dipping Sauce,
• Quick Chicken Curry with Peas, and
• Sour-Cherry-Filled Chocolate Cupcake
For more on the new cookbook, go to Cat Cora Books