Britunes Programming Note: Danger Mouse: "I Never Meant For The Name To Stick"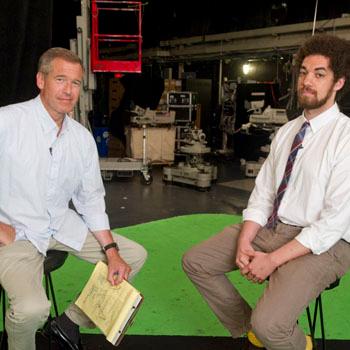 Newsman Brian Williams interviews Brian Burton, the musician and producer better known as Danger Mouse, for his Britunes music series on msnbc.com. Danger Mouse explains his musical influence and describes working with various artists for the recent collaboration with Sparklehorse on the recently released album, Dark Night of the Soul.
Here's a little tidbit to whet your appetite:
###
BRIAN WILLIAMS: When I tell you that when I listen to your music I swear I can hear the fingerprints of Sir George Martin. There's stuff... there's riffs, there is overlays, there's drumming that you would swear came out of Abbey Road. So... talk about derivations, and what gets inside your head.
Article continues below advertisement
DANGER MOUSE: I think its just... I think I wind up leaning towards... a certain kind of feeling in songs themselves and sometimes the feeling is... is kind of texture based, but most of the time its melody or its key changes or something that half breaks your heart a little bit but enough to still want to hear it over and over again, and those are the kinds of things I look for when I'm working with someone or in music in general, stuff that I like myself.