VIDEO: Ali Goes On Daredevil Date With Possible Bachelorette Winner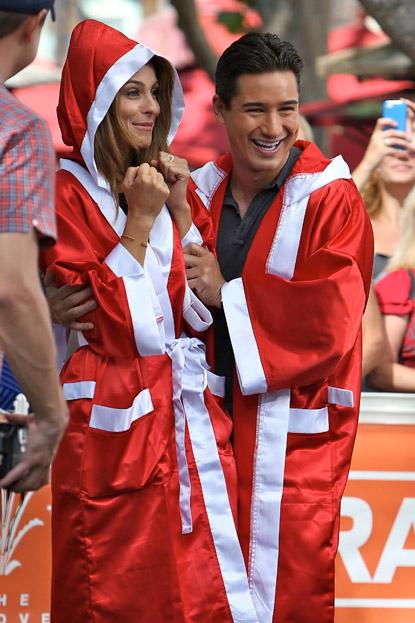 On the latest episode of the Bachelorette, Ali takes a leap of faith on a date with one of her favorite guys Roberto, who reportedly is one of the two finalists on the show. Ali whisked him away in a helicopter and took him to a roof top in downtown LA where the pair tight-rope walked to their romantic dinner date.
EXCLUSIVE INTERVIEW: I Am Bachelorette Finalist's Secret Girlfriend
After spending kissy time on the date together, Ali gives Roberto the first rose of the episode and seemed to genuinely enjoy being with him. "I felt safe," she said of her handsome date.
Article continues below advertisement
The next day, Ali took a bunch of the guys on a group date, which found them filming a music video for the Barenaked Ladies' new song You Run Away.
The sexy story line had the guys acting out scenes where Ali leaves them, and they each had a different experience with the Bachelorette. Frank was in a scene where he was slapped nine times by Ali in the face. "I've never been slapped by a girl before, another first with Ali," he said.
Jonathan the TV weatherman got so scared and intimidated in his scene that he started crying! "I felt so bad, I just went up and gave him a hug, and the next scene I made sure to pull him in and give him a really passionate kiss," Ali said about his actions.
On the shoot, Kirk and Ali wouldn't stop kissing! They continued later in the evening, getting hot and heavy in the hot tub at the video shoot after party. "He makes me feel safe, he makes me feel appreciated, I know he's here to be with me," Ali said, awarding Kirk with a rose at the end of the night.
Article continues below advertisement
The drama continued with entertainment wrestler Justin "Rated R" who walked miles to surprise Ali at the house where she is staying. "The reason I'm here is for you," is what he said, but as RadarOnline.com reported, Justin had two girlfriends at home while filming the show and gets booted off in a few weeks.
The rest of the guys in the house distrust Justin and are disappointed when Ali lets Hunter go home after a one-on-one date, especially when they learn that Justin's surprise visit to Ali cut into Hunter's alone time with her.
However, at the rose ceremony Ali surprised them all by keeping Justin for another week. She said that his relationship with the guys in the house reminded her of Vienna while she was a contestant and she is still willing to give Justin a chance.
Previews for next weeks episode showed the group starting their world travels in New York. The Bachelorette airs on ABC on Monday at 8pm.