TV: Wednesday Hot List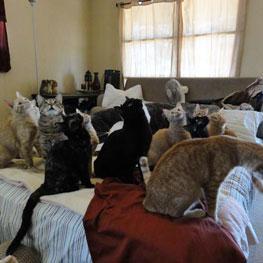 We're extremely curious about Animal Planet's new show that's premiering tonight called Confessions: Animal Hoarding. We've seen the ugly side of hoarding possessions—but this series documents those who hoard numerous pets and animals. In tonight's debut, we meet a woman who will not let her dogs go out of the house and a man that has over 30 cats.
If you need something perhaps a bit lighter, check out Throwdown with Bobby Flay on the Food Network. Tonight he heads to Augusta, Georgia for a carrot cake bake-off against Vera Stewart of the Very Vera mail order business that specializes in baked goods. We didn't even know that Bobby could bake so unless he throws it on the grill or gives it his signature spicy flair—this should be interesting!
Article continues below advertisement
8pm
So You Think You Can Dance (FOX)
Minute to Win-It (NBC)
Big Brother 12 (CBS)
Super Pooches (TLC)
9pm
America's Got Talent (NBC)
Confessions: Animal Hoarding (Animal)
Top Chef: Washington D.C. (Bravo)
Mythbusters Buster's Cut (Discovery)
Throwdown with Bobby Flay (Food)
I Didn't Know I Was Pregnant (TLC)
Ghosthunters Academy (SyFy)
Man vs Food (Travel)
Dad Camp (VH1)
10pm
Work of Art: The Next Great Artist (Bravo)
Billy the Exterminator (A&E)
24 Hour Restaurant Battle (Food)
Real World (MTV)
Toddlers and Tiaras (TLC)
Hot in Cleveland (TV Land)
Bridal Bootcamp (VH1)
Psych (USA)