TV: Tuesday Hot List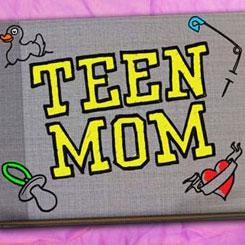 The four teenaged moms that really touched our hearts as we watched their struggles are back on a new season of the groundbreaking MTV show Teen Mom. We meet back up with Amber in the midst of a pregnancy scare, Farrah calling the cops on her mother (we saw their tumultuous relationship since they were on 16 and Pregnant), Maci taking her ex-boyfriend to court for child support and Catelynn moving back home with her family.
Article continues below advertisement
And we fear that Kathy Griffin may have lost her mind tonight on Kathy Griffin: My Life on the D-List. In an effort to raise awareness for women's health, she decides to have—wait for it—a public pap smear. Oh yes and while she's at it, Kathy goes on a media blitz in NYC to spread the word about an upcoming gig and ends up bonding with Joy Behar along the way!
8pm
Losing It with Jillian Michaels (NBC)
Hell's Kitchen (FOX)
Wipeout (ABC)
Pretty Little Liars (ABC Family)
9pm
Downfall (ABC)
America's Got Talent (NBC)
Make It or Break It (ABC Family)
Gene Simmon's Family Jewels (A&E)
Hawthorne (TNT)
White Collar (USA)
Cupcake Wars (Food)
Deadliest Catch (Discovery)
10pm
Primetime: Family Secrets (ABC)
Kathy Griffin: My Life on the D-List (Bravo)
Deadliest Catch: Captain Phil Tribute (Discovery)
Teen Mom (MTV)
KISSteria (A&E)
Chopped (Food)
Jersey Couture (Oxygen)
Little Couple (TLC)
Women Behind Bars (WE)
Memphis Beat (TNT)
Rescue Me (FX)
Covert Affairs (USA)
11pm
If You Really Knew Me (MTV)