TV: Thursday Hot List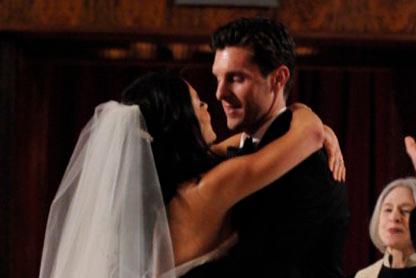 The question mark in Bethenny Getting Married? is finally answered (well, answered for those of you living under a rock) when Bethenny Frankel and Jason Hoppy tie the knot on tonight's episode. After all the stress and planning—the couple make it to the altar for a beautiful ceremony before their baby arrives. Of course, Bethenny still finds times to finish her next book in the midst of the craziness!
Article continues below advertisement
And if you love Grey's Anatomy, then we hope you're watching Bostom Med. The reality show is one of the best and puts the fictional drama at Seattle Grace to the test. Tonight, a neurosurgeon prepares for a risky operation to remove a cancerous tumor from a 29-year-old's sinus cavity while a surgical resident prepares for his first appendectomy and considers dating a colleague!
8pm
Wipeout (ABC)
Big Brother 12 (CBS)
9pm
Rookie Blue (ABC)
So You Think You Can Dance (FOX)
First 48 (A&E)
Police Women of Memphis (TLC)
10pm
Boston Med (ABC)
Bethenny Getting Married? (Bravo)
Ace of Cakes (Food)
Raising Sextuplets (WE)