TV: Wednesday Hot List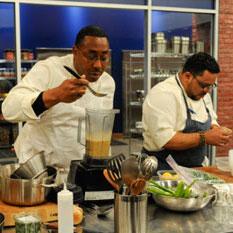 It's all about eating fresh tonight on Top Chef: Washington DC. The cheftestants start out with a Quick Fire with the focus on an eastern shore delicacy—blue crab meat. Later the elimination round takes them to a Virginia farm with the mission to serve up dishes with fresh ingredients.
E! celebrates the most powerful and financially successful women in Hollywood on their special Women of the Forbes Celebrity 100 and, the Power of Veto ceremony happens on Big Brother 12 and a Texas style pageant is featured on an all-new episode of Toddlers and Tiaras.
Article continues below advertisement
8pm
So You Think You Can Dance (FOX)
Minute to Win-It (NBC)
Big Brother 12 (CBS)
Property Virgins (HGTV)
9pm
America's Got Talent (NBC)
Top Chef: Washington D.C. (Bravo)
Mythbusters Buster's Cut (Discovery)
I Didn't Know I Was Pregnant (TLC)
Ghosthunters Academy (SyFy)
Man vs Food (Travel)
10pm
Work of Art: The Next Great Artist (Bravo)
Monsters Inside Me (Animal)
Women of the Forbes Celebrity 100 (E!)
Real World (MTV)
Toddlers and Tiaras (TLC)
Hot in Cleveland (TV Land)
Bridal Bootcamp (VH1)