Teresa's Lesbian Nightmare! Giudice's Prison Sex Confessions EXPOSED In New Tell-All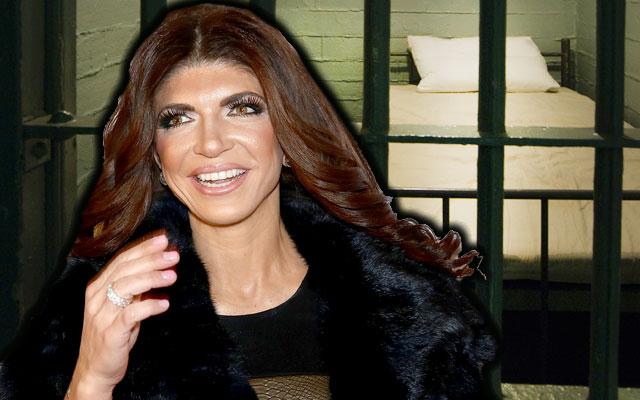 Real Housewives Of New Jersey star Teresa Giudice has a lot to say about her time in prison — and she's sharing it all in a tell-all book!
As RadarOnline.com has reported, Teresa, is fresh out of prison after doing a year-long bid at the Danbury Correctional Institute, but the memories from her stay still haunt her. She recalls her first day of prison, when she was ordered to strip, squat, and cough during intake. "I wanted to die," she said.
Article continues below advertisement
Her next nightmare happened shortly after. The 43-year-old paints a vivid picture of the sights and sounds inside her cell. She had reportedly just said her nightly prayers and made the sign of the cross when she heard two of her bunkmates getting it on. "I could see two women ... writhing around ... I cannot believe this is happening!" the mother of four wrote. In fact there was so much sex going on in her cell, that the place was dubbed the "Boom Boom Room."
And it was not just lesbian women who were engaging in jailhouse sex. Ladies seeking companionship during their incarceration became "gay for the stay" with some inmates getting together in the showers, and others selling sex in exchange for commissary funds, which could be used to purchase food without maggots — a nasty problem Teresa cited in her tell-all.
Teresa insists that she did not take on a lover behind bars. Instead, she spent her time writing down new sexual positions that she learned from her prison pals. She even created a naughty 3-page abbreviated Kama Sutra in her Father's Day card to her husband, Joe. "Madonna mia, I was dreaming of my husband," she said.
But while she did not swim in the lady pond during her bid, she did enjoy other spa services at the hands of her fellow inmates. She employed the ladies as her personal beauticians, paying them to give her manicures, massages, and to dress her hair. The diva even went so far as to pay the prison seamstress to specially tailor her standard issue jail ensembles!
Teresa's book, Turning The Tables: From Housewife To Inmate and Back Again, hits bookstores February 9th.