The Claws Are Out! Vicki Gunvalson Slams Meghan Edmonds As A Fake Mother –– You're A Stepmom, Not A Mom!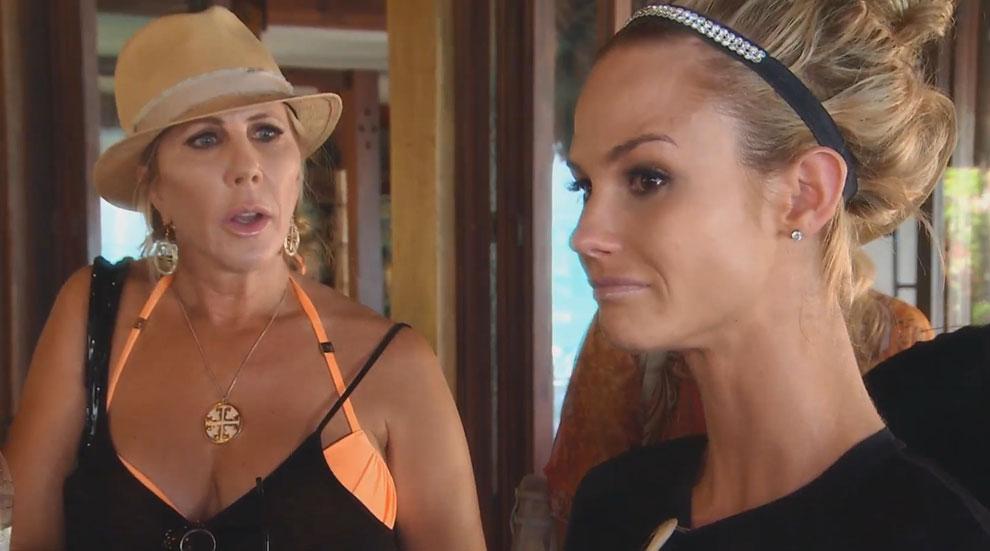 There was plenty of drama brewing on Monday's edition of the Real Housewives of Orange County, as the ladies continued their Tahitian getaway.
While Vicki Gunvalson comes after Meghan King Edmonds over her decision not to work, the girls put Vicki in the spotlight regarding boyfriend Brooks' choice to stop his chemo treatments.
"I don't know much about cancer," Tamra Judge says in confessional. "But stopping chemo when you're stage-three can't be good."
Article continues below advertisement
Later, the group takes a break from all the fuss to determine whether not friend Lizzie is pregnant. Of course, when the ladies discover she is not expecting a child, they quickly hand her a drink and tell her to "whoop it up" with them.
With babies on the brain, Meghan admits to the group that she hopes to have her own kids one day, despite being a stepmom to baseball hubby Jim's children.
"You've only been a stepmom for three months," Vicki tells her, getting on her case again. "It's nothing to get upset about, but you won't know what it's like until you have your own children."
Getting teary, Meghan said, "I wish I was their mom."
"But you're not," Tamra chimes in before Meghan excuses herself, upset.
Watch the Video on RadarOnline:
As the fun continues, Shannon Beador gets a rude vacation interruption when David calls to say that her daughters had their first sleepover and ended up covering a nearby home in toilet paper.
"What do you mean you 'let her have it?'" she screamed into the phone. "Are you kidding me?"
Article continues below advertisement
After that unwanted surprise, Shannon heads to the bar to "whoop it up" some more with Tamra and Vicki, while Meghan, Heather and Lizzie have their own fun.
Of course, mean-spirited conversation soon follows when Vicki and Meghan badmouth one another with their groups.
The alarms really sound, however, when Tamra reveals that Heather, who recently became close with Meghan, is also good friends with Jim's ex-wife Allison. Assuming the other shoe is doomed to drop, the gals continue on their drunken night of fun -- with some skinny-dipping!
The Real Housewives of Orange County airs Mondays at 9/8c on Bravo.