Phoenix Mother Stabs Her Three Sons Before Attempting Suicide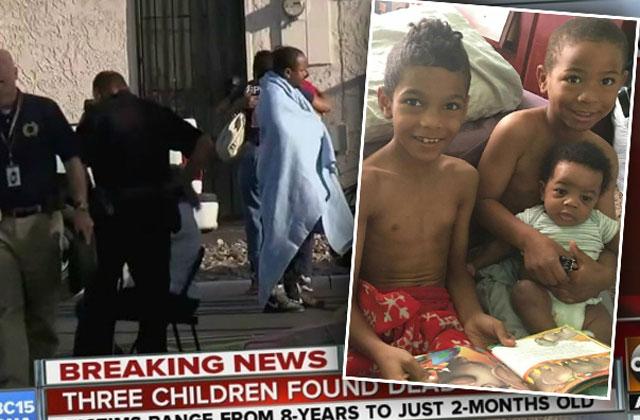 A horrific scene occurred in a Phoenix home this week, with three boys found stabbed to death and their mother, the suspected killer, rushed to the hospital with self-inflicted wounds.
Jaikare Rahaman, 8 and Jeremiah Adams, 5, were discovered partially dismembered in a bedroom closet in the house, while the youngest son, Avery Robinson, 2, had been stuffed into a suitcase at the back of the closet.
The mother, identified as 29-year-old Octavia Rogers, had recently moved into her mother's Phoenix home for the birth of her 2-month-old son, after living in Virginia the past few years.
Article continues below advertisement
Rogers' brother told police that her behavior had been erratic in recent weeks.
When he returned home from work late Wednesday night, Rogers allegedly began discussing God and religion before locking her brother out of the house.
After breaking back into the family home, he discovered Rogers in the bathroom, with wounds across her neck and abdomen. Rogers told her brother she'd done it because she was pregnant, though police have yet to confirm her claims.
While her brother grabbed towels to stop the bleeding, Rogers allegedly tried to drown herself in a bathtub, he claimed.
Watch the Video on RadarOnline.com:
When police arrived, Rogers claimed that her sons were with a caretaker. But during their routine check of the home, officers discovered the boys' dismembered bodies in the bedroom closet.
Rogers has been in critical condition since the incident, but is expected to live. Should she survive the injuries, police plan to charge her for the killings.
Interestingly, Rogers' family had no known history of mental illness.