Kim Kardashian Eats Her Placenta After Giving Birth To Son Saint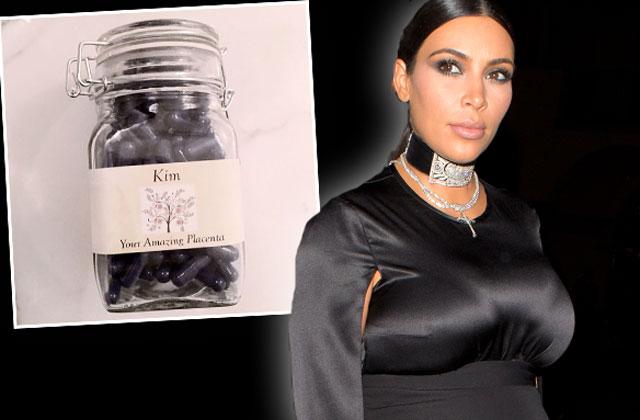 Kim Kardashian has taken some, er, yummy measures after the birth of her son Saint West.
The 35-year-old revealed in a new blog post on Monday, Dec. 14, that she's been eating her placenta !
"So, I'm really not this holistic person or someone who would have ever considered eating my placenta," the mother-of-two wrote in her latest entry, entitled Eating My Placenta.
"I actually thought Kourtney would have soooo done this, but I don't think she did," Kardashian continued. "And when I say 'eat my placenta,' I mean that I'm having it freeze-dried and made into a pill form –– not actually fry it like a steak and eat it (which some people do, BTW)."
Article continues below advertisement
Kanye West's wifey also revealed why eating her placenta could save her in the end.
"I heard so many stories when I was pregnant with North of moms who never ate their placenta with their first baby and then had postpartum depression, but then when they took the pills with their second baby, they did not suffer from depression," she wrote. "So I thought, why not try it? What do I have to lose?"
"The baby is doing well, and is able to stay in the suite," a source told PEOPLE over the weekend.
With a placenta diet and plenty of relaxation in her future, Kim should be doing just fine herself!
What do you think of Kim eating her placenta? Let us know in the comments below!