SPOILER ALERT: Who Did Kaitlyn Bristowe Choose On 'The Bachelorette' Finale –– Nick Viall Or Shawn Booth?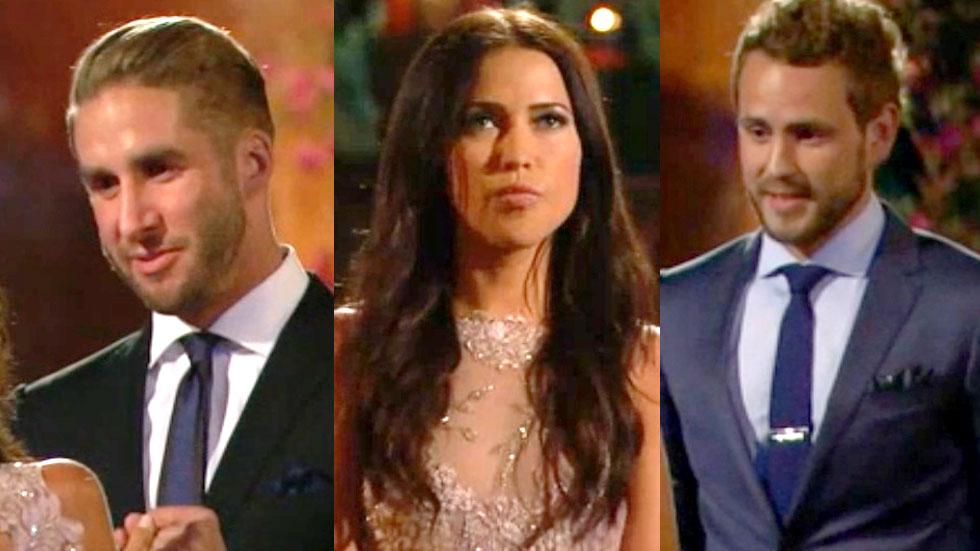 The Bachelorette's Kaitlyn Bristowe made her decision between suitors Nick Viall and Shawn Booth on Monday's show.
From the outset, both of the hunks made clear how committed they were to a long-term relationship with the stunning Canadian dancer.
Viall said, "I absolutely see Kaitlyn as the person that I want to spend the rest of my life with," while Booth said that his "family absolutely loved her and the only thing that I'm left thinking about is proposing."
Article continues below advertisement
Viall came under scrutiny from Bristowe's family, as her mother Leslie said that she was "totally shocked" to see the mid-year addition to the program capture her daughter's heart so quickly. She told him, "I have to be honest with you: You were possessive, you were jealous -- we saw this.
Watch the video on RadarOnline.com
"I don't want to use the word 'arrogant,' but who are you?"
Viall did his best to soothe the concerned parents, telling them, "I am in love with your daughter -- she is the most incredible woman I have ever met. If she will have me, I want her for the rest of my life."
Bristowe's mother also confronted Booth over her concerns about his jealousy issues.
She said, "How are you going to handle that feeling of jealousy in the outside world?"
He said that, "I'm in love with your daughter," and stressed that the two would trust one another.
On her final dates with both suitors, Bristowe enjoyed a romantic boat trip with Viall and a wine-sipping outing with Booth, whose nerves seemed to be getting the better of him as the contest went down to the wire.
Article continues below advertisement
"I'm starting to get a pit in my stomach," he said. "I don't know if she's having doubts about me, but I'm definitely very nervous."
After the men met with jeweler-to-the-stars Neil Lane, they both proposed to the beauty.
Viall told her: "I look at you and I think about how in love I am with you and what you mean to me; I'm not ready to let you go and I don't want to let us go.
"I look at you and I have such confidence in you and in us and I am yours forever if you'll have me."
But it wasn't meant to be, as Bristowe responded, "I'm sorry," crushing him by letting him know, "My heart is just with somebody else."
A shocked Viall responded, "I'm not trying to be short, I just don't think there's anything you could say that would make me less confused ... I don't need to continue to hear how you love me ... if you did, you'd have a ring on your finger right now ... you don't love me."
Article continues below advertisement
He grew agitated riding hime in the limo, saying, "To actually hear her tell me she loves me more than once -- it is a f***ing joke!
"I am the world's biggest joke."
In Booth's romantic proposal, he told Bristowe, "These past couple months we've made some incredible memories and through all the highs and the lows, the ups and the downs, I would not change any of it because it led us here, tonight.
He told the beauty that she "exceeded all expectations, more than I could ever have imagined," and he falls "more and more in love with" her every time he sees her.
"I fall you every time I see you and I look at you and I see a best friend, a partner in crime, a teammate, the love of my life," he said. "You have already made me the happiest guy in the world and all I want to do is make you the happiest girl in the world.
"I love you so much, Kaitlyn."
Bristowe was much more receptive to his romantic overture, saying, "I am completely yours. I will always be faithful to you.
Watch the video on RadarOnline.com
"I have been waiting so long to tell you how I feel because I love with all of my heart like I've never loved anybody before. I can't wait to make a lifetime of memories with you and only you because you are the one and you always will be."
Viewers saw the romantic climax when Booth proposed, and Bristowe accepted.