Exclusive
Bearer Of Bad News: Teresa's Daughter Gia Plans To Tell Her Mom About Joe's New Cheating Scandal In Prison Phone Call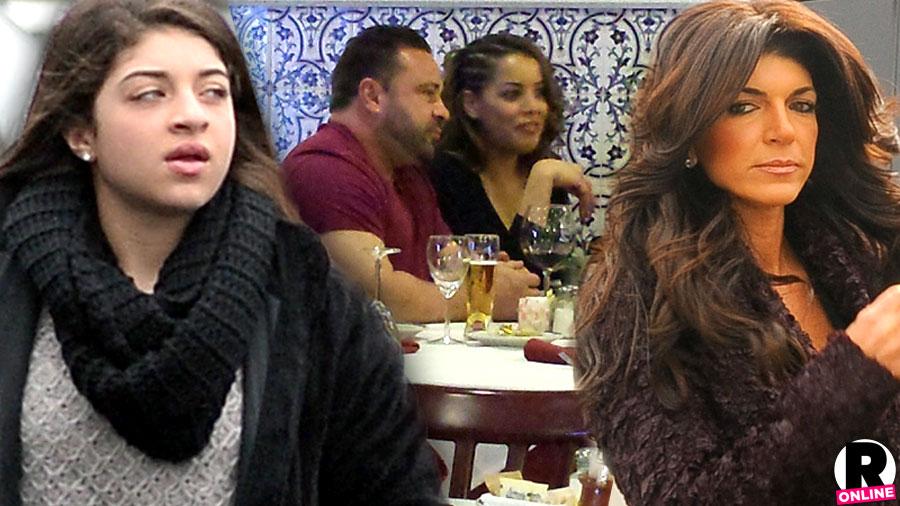 Joe and Teresa's oldest daughter, Gia, is the unfortunate victim of her parents' bad behavior yet again. After RadarOnline.com caught Joe out on a date with another woman while Teresa's behind bars, Radar has learned that the teen will reveal the humiliating news to her mother during a scheduled phone call from the prison. ​
As Radar reported, Joe — who has been rumored to cheat on his wife in the past — was pictured out to dinner with a sexy brunette
Article continues below advertisement
on April 29 in Newark, NJ. And though he chose a location more than 30 miles away from the family's Montville, NJ, residence for the date, he couldn't keep it under wraps.
A source close to Teresa telsl Radar, "Gia is on the Internet 24/7, and has a smart phone, and will have definitely seen the pictures of her dad with another woman. There is no doubt whatsoever that Gia will tell Teresa about it during their scheduled phone call, or via email. Teresa doesn't have access to the Internet but inmates will have also heard about it from friends and family."
"Teresa is absolutely powerless to do anything, obviously because she is locked up," the source said. "Phone time is only available during scheduled times. For Gia to be put in the middle of her parent's drama is just sad. Teresa will grill Gia about Joe's whereabouts, and if she has witnessed anything suspicious."
Eyewitness Stephanie Palacios, previously told Radar, "He was with another girl and another couple" during the date.
According to Palacios, the group downed red wine and Joe "looked to be having a good time, having a conversation and laughing" with the sexy brunette.
"The way he and his date were conversing, you wouldn't talk that way to a family member or friend," Palacios said. "Even my boyfriend thought something was going on. They had chemistry."
Our insider added, "Joe doesn't ever think he will get caught, and knows he can do whatever he wants while Teresa is locked up. He is definitely living the life of a single man."