Jana Duggar Forced To Care For Disgraced Brother Josh's Infant Daughter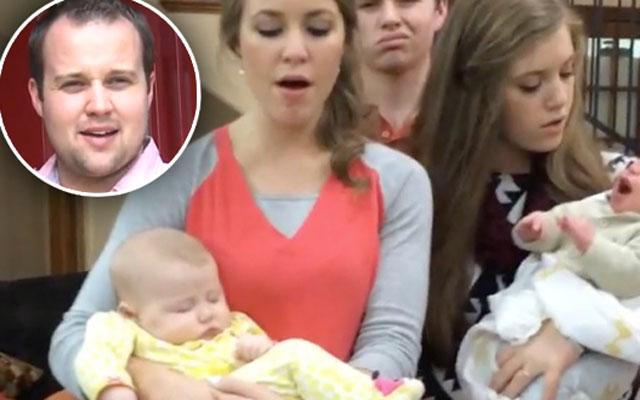 Jana Duggar can't catch a break, even during the holidays!
The Christian clan's oldest girl— who at 25, remains the sole single and childless daughter over 21— can be spotted caring for her disgraced brother Josh's infant daughter Meredith in a family video.
Last night, Jana's 23-year-old sister Jessa Duggar Seewald, who welcomed son Spurgeon earlier this month, uploaded a clip to her Instagram page of the supersized family singing Christmas carols.
Article continues below advertisement
Toward the end of the quick clip, Jana holds a sleeping Meredith, 4 months, as she reads the tune's lyrics.
Next to her, sister Joy-Anna, 18, holds a sobbing baby Spurgeon.
"Beautiful singing! I could listen to this all night!" Jessa wrote. "And my little man is telling me he's ready to eat again."
On the family's canceled reality show 19 Kids And Counting, Jana could be seen sewing clothing, cooking, and even homeschooling her more than a dozen little siblings.
"It's absolutely ridiculous how much the family makes Jana and the older siblings do," the source told Radar last fall. "Jim Bob and Michelle have totally transitioned a lot of their parental responsibilities onto her."
Earlier this year, OK! reported that Jana wanted to move out of her parents' home — but was met with disapproval from strict father Jim Bob.
For now, she remains at home to pick up her rehab-resident brother's slack. Father of four Josh, 27, was shipped off to a treatment center after he confessed to suffering from sex addiction following his cheating and child molestation scandals.