Cat Fight! Heidi Klum & Mel B Feuding On 'America's Got Talent' -- Howard Stern Intervenes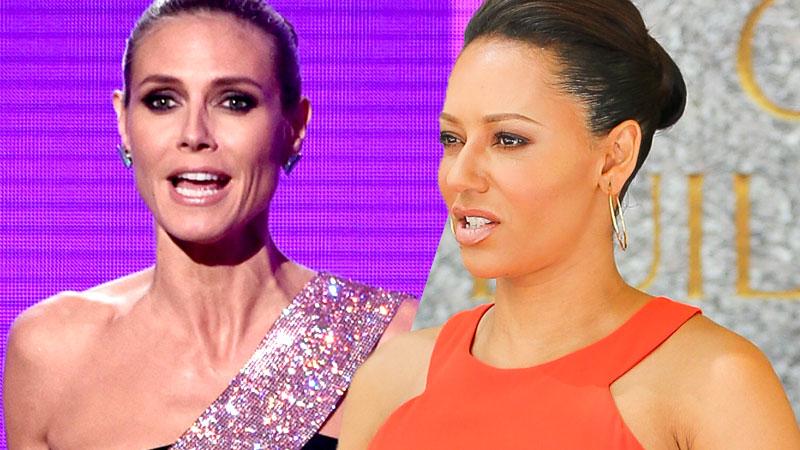 The claws are out at America's Got Talent as diva judges Heidi Klum and Mel B. duke it out over screen time! According to a new report, fellow judge Howard Stern has even had to separate the hot-tempered twosome.
"Both want to be queen of the show," the source told The National ENQUIRER. "It's getting nasty!"
When Klum, 42, and Mel B, 40, joined AGT in 2013, the former Spice Girl was prepared to play second fiddle to her leggy German rival, who also hosts Lifetime's Project Runway.
Article continues below advertisement
From Lumpy Bumpy To Skin & Bones — Kim Kardashian, Rihanna, Heidi Klum & 16 Other Stars' Show Off Their Not-So-Sexy Sides
"But Mel felt Heidi was boring and humorless, and realized it was a chance to seize the limelight," said the source.
Tensions escalated recently, the report claims, when Klum's beau, Vito Schnabel, 28, visited and the British pops star flirted with him behind Klum's back!
"Mel's married and has no interest in Vito, but she did it for a laugh," said the source. "He apparently enjoyed her advances, and Mel gleefully told Heidi she must be crazy to date a guy who can't be trusted."
"Mel thought she'd driven a wedge between them, but Heidi just exploded at her. It looked like they might scratch each other's eyes out!"
That's when Stern stepped in to play peacemaker, according to the source, who added, "He told both of them to calm down, and if they showed that same fire on TV, ratings would go through the roof!"