Exclusive
Taking Sides: 'Girl Next Door' Bridget Marquardt Defends Holly Madison, Says She Doesn't Speak To Kendra Wilkinson Either!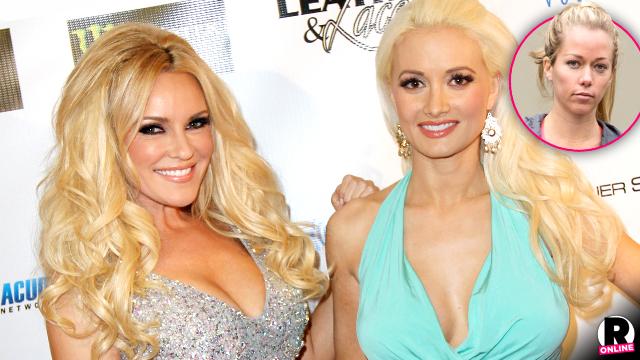 Holly Madison ripped her Girls Next Door co-star Kendra Wilkinson in her Playboy tell-all book. But is the third blonde bombshell of the show, Bridget Marquardt, taking sides? RadarOnline.com spoke exclusively with Hef's former girlfriend about which bunny is her real-life BFF.
"I like Holly and I'm friends with her," Marquardt said of her Playboy Mansion roommate. "I'm happy for her that she wrote the book."
Article continues below advertisement
Madison wrote in Down the Rabbit Hole: Curious Adventures and Cautionary Tales of a Former Playboy Bunny that she was "hurt and confused" when "fakest person" Wilkinson cut off all ties with her.
And Marquardt told RadarOnline.com that she isn't currently friends with Wilkinson either.
"I haven't seen or talked to her in years," Marquardt said. "It is crazy. We haven't had a falling out or anything. We just haven't talked."
The Playboy model, who posed nude in Hef's men's magazine told RadarOnline.com that there was "No reason," for her to ever see Wilkinson, whose husband cheated on her with a transsexual last spring, as RadarOnline.com reported.
In her book, Madison claimed that Hefner offered her a Quaalude during one of their first interactions in 2001. She claimed he said, "Usually I don't approve of drugs, but you know, in the '70s they used to call these pills thigh openers." She was 21, and he was 75.
MORE ON:
Bridget Marquardt
Article continues below advertisement
Marquardt stayed neutral on Madison's Hef stories, telling RadarOnline.com, "I haven't read the book so I can't even comment on any of the allegations. But I am definitely going to read it!"
Known for her girly costumes while living in the Mansion, Marquardt revealed that she has learned to sew and has opened her own shop on Etsy called Celebrate With Bridget. "All of this is brand new for me," she revealed. "Learning to sew and people taking interest in my designs. I really like trying to start a business. It's fun but it's all a learning experience."
Why do you think Kendra doesn't speak to Bridget or Holly? Sound off in comments below.