'Bibles & Guns!' Phil Robertson Delivers Controversial Prayer At NASCAR Race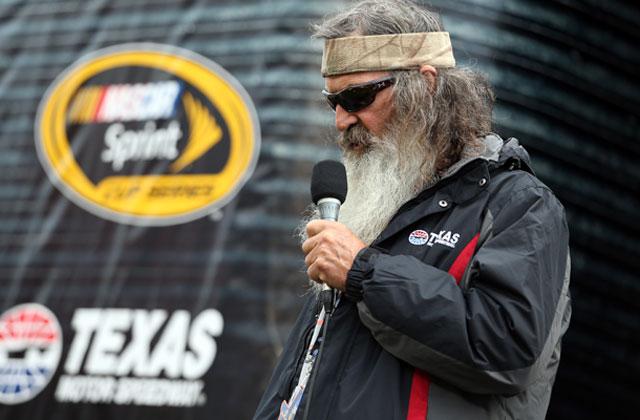 Duck Dynasty patriarch Phil Robertson is known for being outspoken — but did he take it too far this time?
The reality star, 69, took center stage in Texas this weekend, delivering a pre-race prayer at NASCAR's Commander 500 that was nothing short of controversial.
"All right Texas, we got here via Bibles and guns, I'm fixed to pray to the one who made that possible," he said, addressing the thousands of fans at Texas Motor Speedway. "Father thank you for finding our nation, I pray that we don't forget who brought us."
Article continues below advertisement
"Our faith in you and the U.S. military is the reason we're still here," Robertson continued before including an obvious plug for Ted Cruz, "I pray, Father, we put a Jesus man in the White House."
After the invocation, Will Robertson, also from Duck Dynasty, sang a (pitchy) rendition of the national anthem to kick off the racing.
Of course, Phil Robertson is no stranger to controversy, raising eyebrows last year after delivering a speech at a religious gathering that used murder, child rape and castration to illustrate the flaw in atheism.
Throughout his career, the reality star has consistently made bold, public remarks about politics, sex and homosexuality on a number of occasions, making this most recent declaration of controversial comments just another drop in the ocean.